Our tumbling classes are open to girls and boys and focus on the development of tumbling skills.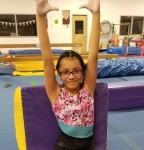 This class is a must for any current or future cheerleader. Students train on the tumble track, trampoline, incline mats, as well as floor. Classes are divided by ability.
Must have current registration/insurance fee paid once every 12 months.